Sources
"Making Tracks" – For those interested in hearing/seeing interviews conducted with many of the early retail pioneers; e. g. Al Johnson, Nathan Conyers, Bill Shack, Mel Farr and many others, a 45 minute video tape was produced in 2006 and can be obtained by visiting www.namad.org.
This tape provides personal insights as to the historical events which happened during the period following 1960 as ethnic minorities, particularly African-Americans, entered the retail car business. This documentary was sponsored by both NAMAD and Operation PUSH, and produced and directed by Blake Cole (Reynolds & Reynolds). It is narrated by the distinguished actor, Danny Glover.

The business life and pioneering efforts of the first African-American new car dealer is depicted in a book titled, "Homer B. Roberts – An Extraordinary Man". This book was published in 2005 and can be obtained by contacting rusticEnterprise@aol.com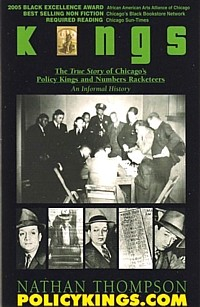 For those interested in reading about life of African-Americans in Chicago during the 1900's, it is suggested that "Policy Kings" is both captivating and must reading. The following contact should be made:

Nathan Thompson
CEO
Bronzeville Press
1403 East 75th St.
Chicago, Ill. 60619

Thanks:
Editing by Jen Westin (OdicXpress) with input from Bob McAfee (Ford DD Retired).

This website was designed, and is presently maintained by MondoDyne Web Works (Ann Arbor, Michigan ), which has been building sites since 1994. Mike Gould is the person "In Charge" and can be reached at mgould@mondodyne.com.