GENERAL MOTORS CORPORATION
Difference Makers During 1960 - 1990
GREG BARANCO is a graduate of GM's Dealer Training Academy, At the early age of 30, he was appointed the Pontiac dealer in Lilburn, Georgia in 1978 which was relocated to Decatur in 1981. In March of 1988 he acquired the LM franchise in East Point, Ga. In 1983, GM decided to establish its own Black Dealer Council to review minority dealer issues. Baranco was chosen its first president. Later, when GM's African-American dealers decided to establish a separate, independent organization (1987), the GM Black Dealer Association, Baranco was selected president. In 1988, this Association was restructured to be inclusive for all minorities (GMMDA). Baranco owns several dealerships in the Atlanta metro area and continues to play an active role in GMMDA matters.
CARL BARNETT, SR., a graduate of GM's dealer training academy in 1988, was appointed the Pontiac dealer in Tulsa, Oklahoma in 1989. Subsequently, he entered the Houston market in 1991 and eventually acquired several Pontiac dealerships. He later sold his GM businesses and acquired several Ford dealerships in the Dallas market beginning in 2001. In 1998, recognizing the need to include the industry's minority dealers, Barnet was appointed Member-at-Large-West by the National Automobile Dealer Association, the first African-American (along with Larry Brown Ford/Toyota) to sit on NADA's Board of Directors
JIM BRADLEY worked for GM but like other African-Americans in the Company, he had made the decision to be his own 'boss' and seek a career in the retail car business. The year was 1970 and there was no GM training academy. After training with several GM dealers over the next few years (including Al Johnson in Chicago), he believed he was ready. In 1973, GM appointed him the Pontiac dealer in Ann Arbor, Michigan. In 1993, he and his wife, Juanita were appointed the Saturn dealer in Ann Arbor. GM saw this as a unique opportunity to promote the fact that they had a wife/husband team in the same market. The ad, (shown below) reads "I'm proud to be married to a GM dealer . . . and so is my husband." Jim Bradley was an active participant in GMMDA affairs from its very beginning.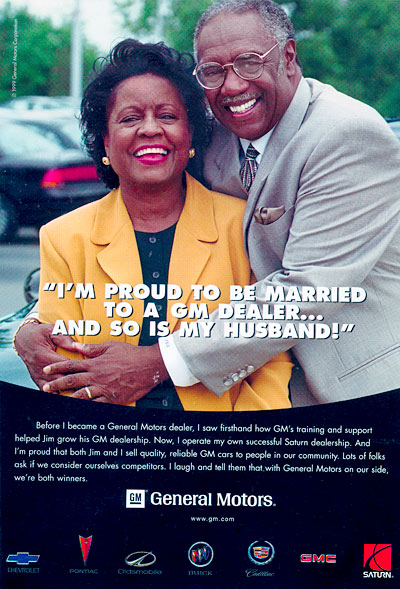 JAMES CONLAN was the Director-Sales of GM's Corporate Staff who was given the responsibility of developing GM's Minority Dealer Program. One of his very first actions was to bring Dick Harris to Detroit as the key individual to launch a training program which was accomplished in June, 1972. The GM Academy became the standard in the industry. For several years, Conlan remained the primary spokesperson and champion for GM's Minority Dealer Program initiatives.
DICK HARRIS has the distinction of playing a key role in GM's early efforts to appoint minority dealers. After graduating from Colorado State University, Harris joined GM in 1961, left for a period, and was rehired in 1968. He was assigned to work in New York City at GM's company owned dealership to learn the retail business. With the need to formalize its retail training for minority candidates, Harris was brought to Detroit in 1971, where, with the help of many at GM and outside training consultants (Jam Handy), GM's Dealer Training Academy was launched in June of 1972. This 18-21 month training program became the standard in the industry. Harris remained with the Company until December, 1978 when he was appointed the Cadillac dealer in Detroit. He remained in business until GM determined the point was no longer viable and it was closed in 1987. Harris established his own automotive consulting firm and has worked as an interim operator/consultant for both GM and Ford.
TONY MARCH has played a major leadership role for GM's minority dealers, both as the president of the GM Minority Dealer Council (13 consecutive years (1985-1997)) as well as being a major contributor to GMMDA (President-1990-1992). March had worked for GM's Fisher Body Division for 13 years (1971-1984), but believed he could better achieve his personal goals by being a dealer. He graduated from GM's Dealer Training Academy in 1985 and was awarded the Buick franchise in Hartford, Conn. In March of 1998, with Ernest Hodge, an African-American GM dealer in Atlanta, he formed a separate and unique automotive management team which has owned as many 22 dealerships in seven states; mostly in the South Eastern part of the country. Tony March has played an important role in GM's effort to diversify its dealer networks.
CORNILIUS MARTIN, quietly and with little fanfare, built a highly successful network of dealerships, primarily in the mid-West. He started in the car business in the late 1970's and was a graduate of GM's Dealer Training Academy. In 1985, he became the Olds-Cadillac dealership in Bowling Green, Ohio. As he expanded his number of dealerships, his Martin Management Group instilled strict operating controls and reporting processes which enabled him to stay of top of the individual dealerships. He formed his own realty and insurance companies and also acquired the Harley Davidson Motorycle franchise. He was a mentor to many and active in GMMDA.
BOB ROSS was a graduate of GM's 1st Dealer Training Academy and the first to be appointed a dealer. He acquired the Buick dealership in Richmond, Indiana (1974) utilizing the Motors Holding Investment plan. In September, 1979,he purchased the Buick-Mercedes Benz dealership in Centerville, Ohio in 1979 where he remained until his death. His wife, Norma and their two children, now operate the business. Ross made many contributions to GMMDA over the years.
BILL AND DON TINSLEY (brothers) were appointed the Buick dealer in Redwood, California in March of 1971. Their picture was shown on the cover of the 1974 edition of Black Enterprise magazine, the first African-American dealers to receive such a distinction. After the dealership was closed, Don joined GM where he worked for almost 12 years. In 1988, he returned to the retail business in Marshfield, Mo. (Ford) and subsequently, owned several Ford dealerships in the mid-west. He has remained an active member of NAMAD's Board of Directors.
PORTERFIELD WILSON was in the used car business in Detroit in the 1960's when GM contacted him relative to a Pontiac dealership that had become available in downtown Detroit. Wilson was appointed in December, 1970. He also acquired GMC Truck and later, with his wife (Barbara), was appointed the Honda dealer in Ferndale (1979). He also acquired the Mazda franchise which he dualled with Honda. Wilson was pro-active as a member of NAMAD and participated in all of the initial meetings with GM hierarchy.
DR. JAMES WOODRUFF was unique to the retail car business. After earning three degrees, including a doctorate in education from Wayne State University in Detroit, he made the decision to change careers: "I want to be a car dealer!" He left academia in 1976 and went to work for Nathan Conyers at his W. Grand Blvd. Ford dealership to learn the business. In 1978, the Oldsmobile dealership in downtown Detroit, became available and Woodruff, under GM's Motors Holding program, invested and operated the business until January, 1990 when it was closed. Woodruff had acquired the LM dealership in Saginaw, Michigan in 1988 and later purchased the Ford dealership in Clio, Michigan in 1992. Woodruff was a major contributor to both GMMDA and NAMAD. He played a leadership role for almost 30 years until his death in 2002.
Other GM dealers 'active' early in the pioneering process:
CLARENCE CARTER Detroit, Mich.
CHUCK HARRELL Woodhaven, Mich.
WILLIE PATMON Detroit, Mich.
BILL SCOTT Rochester, N. Y.
PEYTON WELLS Indianapolis, Ind.
GREG WILLIAMS Omaha, Neb.