FORD MOTOR COMPANY
Difference Makers During 1960 - 1990
PHILIP E. BENTON, JR., was Executive Vice-President of Ford and is considered to be the minority dealership champion within Ford Motor Company. He was the catalyst to make its Minority Dealer Program a high priority. In 1984, working with FMMDA, he was responsible for the Company issuing a Directive, the first of its kind in the industry. It established a five year objective of having 320 African-American dealers in place by the end of 1989. While not achieved, it has been the basis for existing actions by the Company. When asked why such a Directive, he answered, "I had a personal concern that the country was not doing enough to solve our racial problems." He also stated that "it was good business and just the right thing to do."
T. R. BRANTLEY was a LM dealer for a short period of time (1976-1981) in the Greenbriar area of Atlanta. He participated in the March, 1980 meeting in New Orleans at which the BFLMDA was established. He was the first dealer to formulate a program for high-risk credit/low income buyers. The program, known as TRP (Terry's Rental Plan). was designed to help build credit worthiness. Upon resigning the LM franchise, he opened two used car lots emphasizing TRP. Subsequently he went in to a number of business enterprises (real estate development, beverage, restaurant), all of which have been highly successful.
LARRY BROWN was initially appointed the FLM dealer in Ottawa, Illinois (1985) and later acquired Ford in Niles, Illinois (1992). In 1998, realizing the need to recognize the industry's minority dealers, Brown was appointed a Member-at-Large-East by the National Automobile Dealer Association, the first African-American (along with CARL BARNETT-West) to sit on NADA's Board.
NATHAN CONYERS is considered an individual with vision for what was needed to promote minority dealer issues from the time he was appointed a Ford dealer in Detroit effective January, 1970. When the industry minority dealers, primarily African-American, decided to establish a national association, he was chosen its president (August 1970). Later, when the Ford/LM black dealers established its own organization (March 1980), Conyers was selected as Secretary and one of its key spokespersons. On May 31, 1980, when ethnic minority dealers came together to seek governmental assistance, Nathan was chosen NAMAD's first president. As both a Ford and Jaguar dealer over the past 37 years, Nathan Conyers has played a leadership role in African-American dealer affairs.
LaROY DOSS was appointed the Ford dealer in Pittsburgh, California in 1974. He was highly active in dealer affairs and along with Judson Powell, was the catalyst for bringing the existing Ford/LM dealers together in New Orleans in 1980 to form the Black Ford Lincoln Mercury Dealer Association. He also was one of the three Ford dealers who joined the Rev. Jesse Jackson on his first exploratory trip to Japan to promote minority inclusion in their business endeavors in the U.S.A. Doss was subsequently elected FMMDA Dealer Emeritus in 2004.
MEL FARR, SR., known affectionately as "Super Star" for his television advertising which featured him in a red cape, was instrumental in establishing both FMMDA and NAMAD (1980). His first dealership was located in Oak Park, Michigan (1975) and over the years, he acquired a number of Ford and LM franchises in other markets nationally. In 1998, he was the first dealer to be ranked #1 in Black Enterprise Magazine's Top 100 list of all black owned businesses with revenues of $600 million. He now is focusing his energies on vehicle programs designed to assist financially disadvantaged individuals who are in need of transportation. He was also selected Member Emeritus by FMMDA.
HENRY FORD II was the primary catalyst for change at Ford Motor as to the manner in which his company did business with respect to minorities. In 1968 (January), he issued a personal directive calling for equal opportunity within all aspects of the Company. Employment, the supplier base, and its dealer network were functions/activities he specifically identified. He personally selected Levi Jackson, an African-American working in the Company, as the focal point to make things happen within the dealer network.
TOM GILLESPIE was the Ford dealer in Gary, Indiana for many years, beginning as the general manager in the 1970's. His contribution was when he challenged the Chicago Ford Dealer Advertising Association for failing to advertise in local black owned media. In the late 1980's, he took his case to Ford Division management which resulted in the decision by the Company to hire Burrell Advertising Agency, an African-American ad agency located in Chicago. It was the first black owned agency in the automotive sector to develop advertising/marketing strategies directed to black consumers nationally. Gillespie made it happen.
LEVI JACKSON joined Ford Motor Company in 1953 after graduating from Yale University where he set numerous records on the football field. He was elected the first African-American captain of any Ivy league team. He was personally selected by Henry Ford II in 1968 to work with the vehicle divisions to identify minorities who could qualify as Ford dealers. Jackson, along with Judson Powell and Mel Farr, Sr., was the catalyst for establishing several training programs for minorities in the early 1970's.
JUDSON B. POWELL, hired by Ford Motor Company in 1962, was an early member of Ford's minority dealer department. He was a catalyst for its minority dealers to establish its own organization (1980-BFLMDA), the first of its kind. (1980). Powell operated two Ford dealerships (Pontiac, Mi.-1984) and Castle Rock, Colorado (1989). When the decision was made to sell Castle Rock in 1995, he joined FMMDA as an Operations Consultant.
WILLIAM E. SHACK, JR. can be considered a forceful, tenacious icon among African-American dealers. Shack acquired his first Ford dealership (1977) in Yucca Valley CA. He was a prime force in establishing the BFLMDA organization in 1980 and was elected its first president. He was instrumental in establishing NAMAD. He played a key role in its development of programs to assist minority dealers. Shack later acquired a number of Ford and LM dealerships on the West Coast in partnership with Lenny Woods (Chino Hills, CA). He subsequently acquired the Honda dealership in the Henderson/Las Vegas market which he sold in 2007. Shack is now successful in the real estate business in Yucca Valley, CA.
Other Ford/LM dealers who were 'active' early in the pioneering process were:
AL BENNETT Flint, Mich.
HORACE NOBLE Chicago, Il.
SAM JOHNSON Charlotte, N. C.
HAYWARD STATUM Salem, N. C.
LEN WOODS Chino Hills Calif.
KEN YOUNGER Fairfield, Ohio
Members of BLFMDA c. 1980s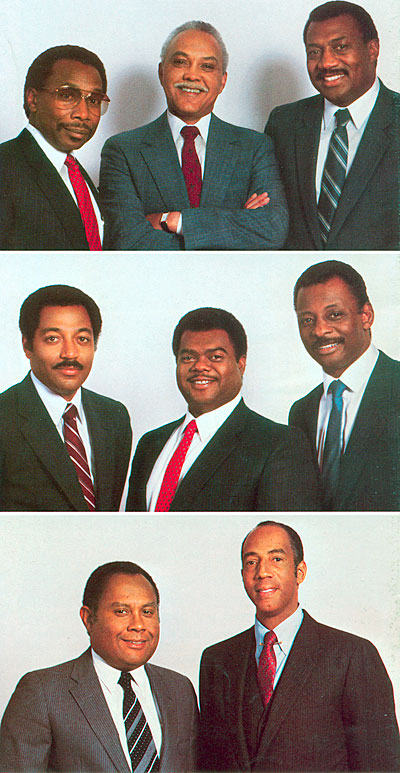 Top-left to right: Sam Johnson, Kenneth C. Younger,
and William E. Shack Jr.

Middle-left to right: Alan Reeves, Ernest G. White,
and Mel Farr

Bottom-left to right: Lenny Woods and LaRoy Doss
Source: FMMDA